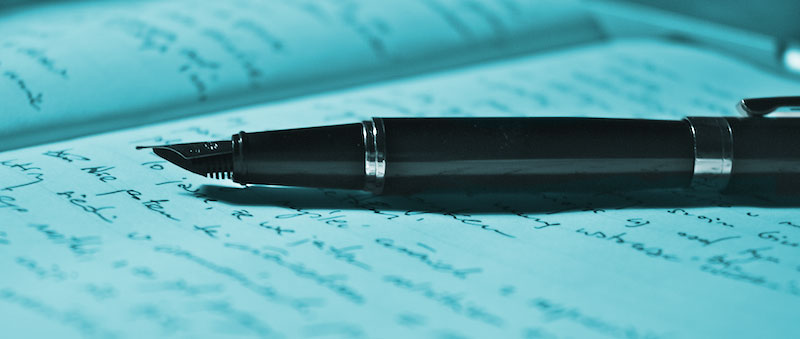 About
Esperanza Cintrón currently has three collections of poetry, Chocolate City Latina (Swank Press, 2005), What Keeps Me Sane (Lotus Press, 2013), which won the 2013 Naomi Long Madgett Award, and Visions of a Post-Apocalyptic Sunrise (Stockport Flats Press, 2014). She was awarded a Michigan Council for the Arts Individual Artist Grant, The Metro Times Poetry Prize and was a 2012 Callaloo Creative Writing Fellow at Brown University. Her poetry, fiction and essays have appeared in a number of anthologies and journals including Double Stitch (Beacon Press), Erotique Noire/Black Erotica (Doubleday), Abandoned Automobile (WSU Press), 13th Moon (SUNY Press), The Latin Americanist and Hispanic Outlook. Cintrón holds a doctorate in English Literature and teaches writing and literature at a local college.
Like Monet and Tito Puente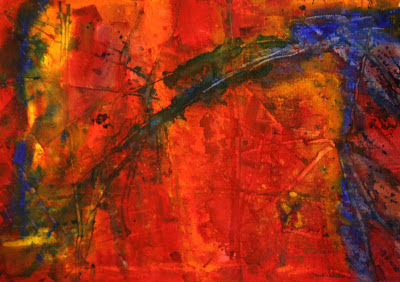 Like Monet and Tito Puente
Like Monet and Tito Puente
(medium: watercolor on Latin jazz)
Railroad flat, bohemian

awash in thrift store

antiques and rhetorical fervor

youth and heated flesh

the headboard's staccato

beat, wood against wall

below, a neighbor's complaint

the thud and knock

his broom's handle a fervent backbeat

to the headboards clack and splat

the crescendo, an old bed with weak slants

the tickle of your laugh

dances across my cheek

your palm, firm and warm

rests against my hip

snow rims the frozen window

an oblong halo of ice

the whistle and rattle of wind

presses against the glass

you pull me closer

as we slide down,

down the tumbled mattress

beneath the puddled quilt

your breath hot and moist

bathes my skin

firm fingers splay

across the hollow of my belly

and you nuzzle my neck

with a smile

-from Visions of a Post-Apocalyptic Sunrise: Detroit Poems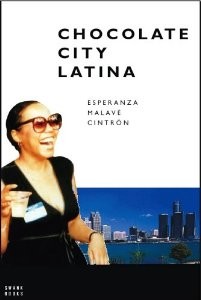 Chocolate City Latina
Lively, Accessible, Woman-centered Poetry
Esperanza Malavé Cintrón shapes her book of poems, Chocolate City Latina, into four parts: Girl Talk, Spirit Speak, City Speak and Womanspeak. As the titles imply, the poems follow a progression of themes from family and identity to place, language, spirituality and a fierce claiming of parenthood, heritage and what it means to be a modern woman of mixed blood. Throughout, the poems display energy, directness, honesty and authenticity. In exploring language and how it shapes identity, Cintrón displays a willingness to play with words and syntax without ever sacrificing the (at times searing) heat of anger, love, forgiveness and loyalty that characterize the emotional content of the poems. Too, there is an optimism, a sense of life as an adventure, an eagerness to find out what's around the next bend, along with a deep respect for the mystery of why we are the way we are. Cintrón delves deeply into relationships: between sisters, between parent and child, abuser and abused, between lovers and even the way strangers reach out to one another (as in the poem "Stall Scrawls.")
Cintrón holds a doctorate in English Literature from The University of the State of New York at Albany. While in New York, she co-founded The Sisters of Color Writers Collective and edited its literary journal Seeds, which was published from 1989 to 2006. Currently, she lives in downtown Detroit where she teaches writing and literature at a local college.
There is a sturdiness to these poems, even as they reach back in memory or forward in possibility, and risk everything. Cintrón has a great sense of popular culture on its deeper levels, as in the fabulous poem "Communion," which begins, "God is/ in Michael Jackson/ who mirrors the world/ as he fades to white/ wearing a dollar sign/ at his throat…"
Chocolate City Latina never lets up its intensity, while at the same time inviting the reader to bring his/her own perceptions to the work. I loved this book and will reread parts of it many times.

Mary Greene, author of Permissions, Where You're Going in this Dream and A Painting With You Running Through It.
Books ordered through: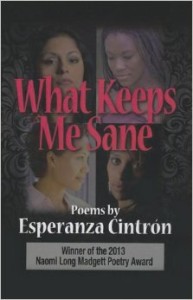 What Keeps Me Sane
"These poems . . . knock the wind out of you. You'll get lost in the haunting beauty and terrible sadness of Cintrón's What Keeps Me Sane. You may have to pinch your skin or bit your fleshy palm in order to stay in the pages. But you'll remember these words on your path to sanity and realize that you are not traveling alone."
Lolita Hernandez, author of Autopsy of an Engine and Other stories from the Cadillac Plant
"What Keeps Me Sane is [a] passionate brisa of images that clean and refresh as it comes to terms with the unfathomable . . . Esperanza Cintrón's voice and images transcend the . . . NYC diaspora and its predominantly militant, male "mean street" voices and interweaves the subjective, cultural and historic richness of the Disaporican urban experience adding subtle, yet lush overtones of symbolic textural dimension."
José M. Irízarry Rodríguez, Professor of English, University of Puerto Rico, Mayagüez
"What Keeps Me Sane is a choir of women's voices. Cintrón's work might differ from Nina Simone's 'Four Women' but it is just as moving. Unlike Simone, she explores something much deeper than color . . . There is triumph as well as pain and hurt in the lives of Aiyo, Lily, Brisa and Plum. Cintrón's work consists of story-telling jewels that . . . are meditations on what it means to be a woman and how to remain sane in this world."
Ethelbert Miller, editor, Poet Lore magazine and director of the African American Resource Center at Howard University
Books ordered through: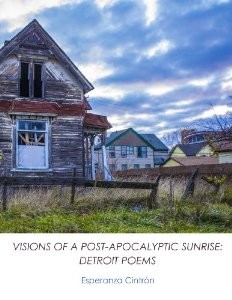 Visions Of A Post-Apocalyptic Sunrise: Detroit Poems
Esperanza Cintrón's Visions of a Post-Apocalyptic Sunrise: Detroit Poems begins "to the strains of B. B. King's 'The Thrill is Gone'" and ends with the "strained falsettos/of an R & B quartet dressed/in sharkskin and doing a Motown/dip and strut across the grand stage." Music in this collection of poetry pulses to the rise and fall of black municipal power in Detroit. It explores the working class values that encouraged survival in the face of devastating loss, values that enabled the people to believe that they had some control over their fate even when confronted by overwhelming power. The poems suggest a cyclical sweep that begins with the intimacies of a separate black community, moves through its political and economic turmoil and ends with what remains, the remnants of a familial community. Included in this book is an interview with the poets Esperanza Cintrón, her daughter Lena Cintrón, and Lillien Waller who represents three generations of Detroiters. With humor and much candor, they discuss their perceptions of the changes that have and are occurring in the once Motor City.
Books ordered through: